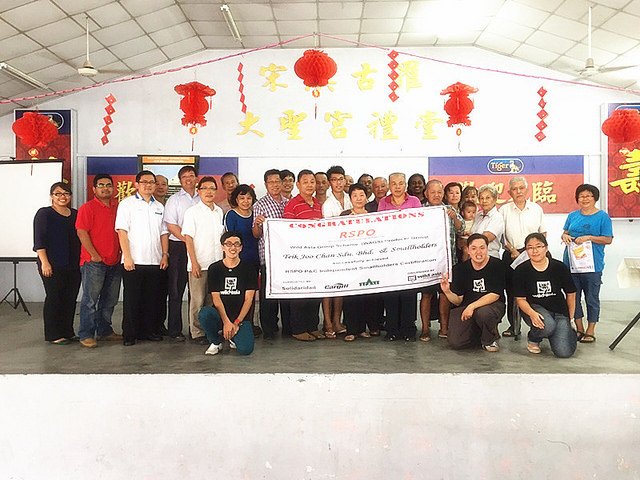 May 14th 2015, Perak
Under the Wild Asia Group Scheme (WAGS), an oil palm fruit dealer and a group of 34 independent
smallholders in Perak, Malaysia, have received their sustainable palm oil certification issued by the globally
recognised RSPO (Roundtable Sustainable Palm Oil).
Oil palm fruit dealer Teik Joo Chan Sdn Bhd is also the first dealer in Malaysia to be RSPO-certified. This
certification helps connect the dealer and the smallholders to a globally certified sustainable supply chain.
Known as the WAGS-Air Kuning, Perak producer group, they received technical assistance and training as a
result of a collaboration between Wild Asia, Cargill and Solidaridad. Launched in 2013, the project roped in a
network of independent players in the supply chain: smallholders, oil palm fruit dealers, mill and refiner, to
work together to maximise productivity, increase yields and improve smallholders' livelihoods.
"In Malaysia, the interest to meet RSPO or international sustainability standards has been very low amongst
independent dealers," said Dr Reza Azmi, the director of Wild Asia, a Malaysia-based social enterprise. "This
project provides the opportunity for a dealer to work towards sustainability and paves the way for others to
try."
Teik Joo Chan's participation in WAGS is driven by the company's goal to prepare themselves and their FFB
(fresh fruit bunches) suppliers to face future market demands for sustainable palm oil, Teik Joo Chan's
director* Teoh Chai Hock explained."It's a long-term goal and it takes time to understand the importance
of this certification." The project's success also demonstrates a good sustainable supply chain link:
farmer-dealer-mill-refinery, Wild Asia's Technical Support Program Manager Sheila Senathirajah added.
"(Also), we typically work directly with the farmers but we came to realise the importance of the dealer's role
in the supply chain," said Sheila. "Farmers have a strong relationship with the dealer and place a lot of trust in
him – we leverage on this fact to use the dealer as the group leader to organise the farmers." The existence of
this 'natural grouping' makes it easier to implement the WAGS system and ensures its self-sustainability in the
long run.
This pilot project is innovative as fresh fruit bunch (FFB) dealers have an active role in providing smallholders
access to good management techniques, Hendry Yang, Asia Pacific manager for Solidaridad added.
"So far, we have understood from smallholders that they recognise the benefits when the different
stakeholders in the supply chain come together. They are interested to see how this arrangement will work
out in the long run," said Yang.